RTP: Wilmington II
This is the start of a new feature on Dublinsaab. RTP stands for Road Trip Report. The rest should be fairly obvious.

This was my second trip to Wilmington, NC to visit and drink merrily with Jeremy from over at Literary Liberal. I was able to get a good start by hitting the road at 5:35am. The weather was cold, 17­°­ F, but the roads were clear in Ohio. However by the time I had made it to Parkersburg, WV I hit a band of heavy snow. The snow lasted about 40 miles during which I observed numerous vehicles off the highway including two which had been opened with the Jaws of Life. One of the vehicles in fact still had a back seat passenger trapped, who the rescue workers where franticly trying to free, as I drove past. I averaged 40 to 55 mph and was able to make it through safely.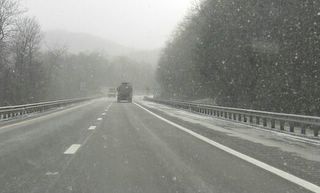 Light snow while South bound on I-77 near Camp Creek, WV.


Light snow continued into Virginia but the roads where fine the rest of the trip down. The only other high light for the outbound was passing a Subaru XT near Raleigh. I gave the driver a thumbs up for having such an obscure car on the roads but he didn't seem proud to drive one of the goofiest cars from the Eighties. Total travel time was 10:02 with a drive time of 9:37.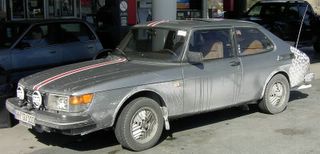 Heidi stopped for a fill up in VA. Got to love all that salt!


While in Wilmington Jeremy did spot an early Saab 93 slowly bio-degrading in someone's backyard but there was no place to pull over and get a better view.

For the trip back the weather was clear until West Virginia where it began to rain, a rain which got continually heavier the closer I approached to Columbus. North of Charleston, WV I decided to take US 33 home instead of I-77 to I-70 just to spice things up. US33 cuts the corner saving miles but takes the same time due to a much slower rate of travel... or at least it used to. From Athens, OH to exit 146 on I-77 in West Virginia there is an all new US 33 that cuts an even shorter route than the previous one while completely avoiding the towns of Evans, New Haven, Mason, Pomeroy, Darwin, Burlington, Pratts Fork and Shade. The new road is wide, has broad hill cuts, huge radius curves and has abundant passing zones. As you can imagine this is now the preferred route. Total travel time back was 9:45 with a brief drive time of 9:05.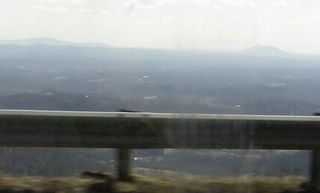 The view from the Blue Ridge as you drop down from VA into NC.


More Numbers. Heidi started the trip at 267,219 miles and ended with 268,589 miles which makes the trip total 1,370 miles. She averaged 29.2 mpg for the trip. I ran into zero traffic backups and obtained a trip high of 95mph. Outbound speed avg. was 73mph while the inbound avg. was 71mph.