Free Testaclese
Eve Ensler's play The Vagina Monologues is not in my opinion a great work of art. It's a crude, endorses the delinquency of minors, preaches of heaven of date rape and is chock full of sexist drivel. Of course since it's all done by women the play has gained a prominence on college campuses as a virtuous must see work that it otherwise would never have achieved. The idea is that it's performance is meant to empower women but what it says to me is that men are all awful worthless pigs and we women can be just as awful as them. But hey, it's a free country so whatever.

Here is a tale of a group of people at Roger Williams Univeristy that don't care for the obnoxious actions of the Vagina Monologues crowd and have taken to mocking them with The Penis Monologues. I'd say don't get your panties in a bind but young college kids got to vent at the man (or woman in this case) so have your fun, after all turn about is fair play. Right? Well not at Roger Williams. There you get in deep trouble for challenging the accepted thought patterns. Interesting to think that the administrators of today who would in their college days riot, loot, storm and occupy buildings among other disruptive tactics all to challenge the system are now so quick to punish those who offer a much lower level of challenge to their own scared cows.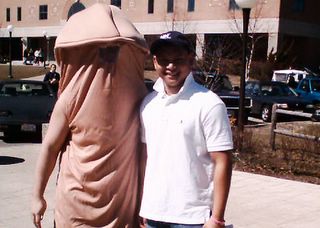 This is offensive enough to merit punishment while 40ft inflatable viginas are oki doki.