On 33
So my real birthday was Thursday, but the day of celebration was Saturday. So in that light today is my birthday (even though it's now rather early on Sunday). I'm now 33. Several have told me that 33 is a lucky number. Sure. It wasn't lucky for Alexander the Great. He never made it to 33. And while some feel they have missed the boat when comparing their accomplishments to his all I have to say is there's one thing I have done that he didn't; make it to 33.

Helen was sadly in Sri Lanka working on the next great line of pants for Ruehl so she missed the dinner tonight. Dinner was at Basi Italia, which located in Ohio can be considered a true Tuscan dining experience. The waitress we had was a bit on the granola side but had a certain presence that makes one take notice. She had an earthy type of beauty that makes Victoria Secret's models fell inadequate. We tried to get Chris to take notice of her but he was just too shy.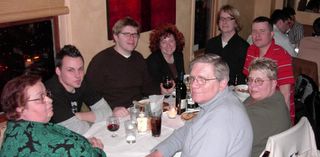 Everyone left in town for dinner with me at Basi.


Dinner itself was excellent. I had the special lamb t-bones and found it cooked to perfection. Everyone, including my parents (my dad had gnocchi, ya for him) enjoyed their meals. And better my adopted grand-mother MaryAnn stated after their eggplant parmesan she was ruined for the Olive Garden. Hehe. Fleet provided the vino for the meal with a bottle of some hole in the wall italiano Chianti and a bottle of Banfi Cum Luade that I chose. Both were wonderful and even the tiramisu was the best I have had.

After dinner the folks and MaryAnn headed back to Mansfield, Mike and Shannon went to a second birthday party while Dan, Chris and I went to the St. James.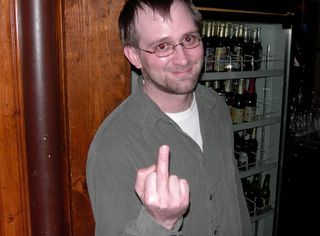 Sean takes a moment from pouring fine druaghts to wish Jeremy well.


For 11pm on a Saturday it was a little slow for the St. James but things are weird with the new smoking ban in Columbus. We ended up closing the James after several Two Hearted ales and now here I am typing up a synopsis.