England - Scotland 2005, Part I
March 19th, 2005
The drive up from London was smooth with the exception of one large slowdown near Birmingham. The 180 miles took about 3:15 which considering the speed limit is 70 isn't all that good but then considering how bad it can be to get out of London it's rather good.

Driving on the wrong side again.


Today we drove over to Chester to check it out as a place for family to visit during the wedding visit. Lovely drive with blue sunny skies and temps in the low 60's. Spotted a Bentley Continental GT, a TVR, 3 mint TR6's, a Ferrari F360, a Lotus 7 and what looked an awful lot like the new Ford GT40. Almost too much sensory input.

Busy Chester from the walls.


Chester is a nice little town packed with people, shopping and history dating back to it's Roman founding. After Chester we went to Beeston Castle. The fortress was built in 1225 and is mostly in ruins today… but what a view.

At Beeston about the only thing left is the view.


The place is built atop a 800ft crag that dominates the lower countryside. It's a bit of a trek to get to the top but well worth it. After Beeston we headed back to Knutsford for a pint. Along the way, as I traveled down a narrow rural Cheshire road, I paid for a sin that occurred in Somerset 6 years earlier when I lightly glanced a curb and blew out the side wall on the front passenger side tire.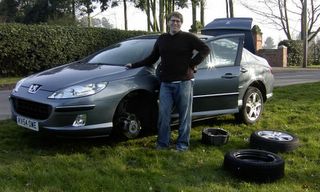 I guess after the miracle of '99 I had this coming.


At least the POS Peugeot had a full-size spare tire. After that interruption we missed the pub and spent the entire evening on wedding planning. Total trip miles – 242.