Fourth Smourth
Police roadside DUI checkpoints are nothing less than a complete infringement of the government on our 4th Amendment right to be, "secure in our persons, houses, papers and effects against unreasonable searches and seizures" (emphasis added). These checkpoints are held year round throughout our nation and in every one of them law abiding citizens find themselves detained by the police, accused of an unlawful activity and then forced to prove their innocence before being allowed to continue on to their destination.

It is flatly impossible to reconcile this act to the Constitution outside of the confines of an edict of Marshall Law. The defenders of these "DUI", "sobriety", "safety" or whatever they wish to call them, checkpoints have to fall back on twisted numbers, the ambiguous public good and a miss reading of the government – citizen relationship to try and justify the abuse of power. Regardless of the claimed good from these checkpoints the basis for all of them comes from the courts opinion that the 4th Amendment stops once you are in a car. They have the view that driving is a "privilege" and therefore we have no rights to constitutional protection. They say driving is a privilege that the state can take at any time. Nuts.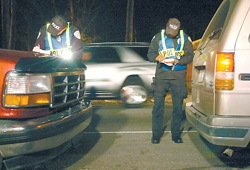 Ve vant to zee your papers!





Driving is no more a "privilege" then is hunting, fishing or owning a business. In all four you must show proof of having the needed requirements to the government, drivers training, gun safety, or the myriad of requirements for a vendors license and in each case once you have met these requirements you then have the right to obtain the license. The state doesn't come into Nationwide and frisk everyone looking for something on the basis that having a vendor's license is a privilege bestowed on you at the merciful largess of the state and while you are at work you have no Constitutional protections yet somehow manages to get by with this in regards to drivers licenses. Of all the requirements and paperwork I went through when I obtained my drivers license I don't remember one of them beginning a voluntary waving of my Constitutional rights. That I am correct in this is proven by the fact that police departments are required to post the time, date and location of future checkpoints thereby creating a Constitutional loophole and at the same time completely defeating the supposed purpose of the stops.

In a recent evening long checkpoint in Bluffton SC, where cars were backed up 25 deep, a total 9 arrests where made but not a single one was for DUI. Where have all the drunks gone? Well they can just avoid that stretch of road can't they. Road checkpoints are in infringement of our rights and an ineffectual waste of government resources. Either we throw out the Constitution and allow the police to stop everyone all the time for any reason, in the name of public safety of course, or we should realize that our cars qualify as an "effect" as stated by the framers and not a black hole of liberty.