Way to go guys!
There hasn't been much to cheer about for me regarding the Ohio State men's squad over the last few years. That's partially due to the fact the basketball team doesn't play football but a big chuck has been poor performance and scandal. Looking at this year with no top talent and a team facing a post season ban thanks to coach O'Brian giving money to a player it fair to say expectation for the new coach Thad Matta where low.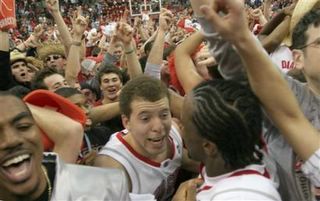 Rare event: Fans celebrate big men's basketball win.


However he has managed to guide the Buckeyes to 19 wins this year including a defeat of #1 and until then unbeaten Illinois over this weekend. If it weren't for the post season ban there's a good chance they'd get into the NCAA but if not a guaranteed spot in the NIT. The team deserves a hearty slap on the back for doing well but I remember thinking great things of O'Brian after his first year when he took OSU to the Final Four. So the question is will OSU improve next year or is Thad going to be a one hit wonder too?