BOTD: Oranjeboom Lager
Beer of the Day.

Today, for the first BOTD, I sampled Oranjeboom Premium Lager, which is brewed in Holland. How do I know it's from Holland? It's printed on the can in about 6 different locations, and they told me jingoism was an "American" thing. The can also claims that Oranjeboom has been around since 1671.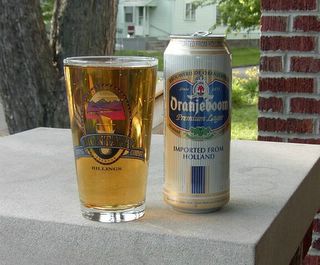 Sunshine, a porch and a beer.


Well it's a bit hard to gauge this beer as it may have dated to around the time the brewery was founded. It was the shunkiest beer I have ever tasted from a can. It has hints of a full bodied lager, which therefore means when fresh it might bea bit too rich for a lager. Even with it's advanced age it wanted to be a likable beer.

Quick Stats:
Brewery/Date: Brouwerji de Oranjeboom / 1671
Style: Lager
Content: n/a
Rating: Would try a second time, if they still made this, which it seems they don't.
Recommendation: If you find some and your pallet isn't refined enough to hunt through a skunked beer you might want to stay away.