BOTD: Dinkel Acker Pils
Today we have our first true pilsner for the BOTD. This particular pilsner comes from the Spaten brewery in Munich. The Dinkel Acker is, like most German beers, made in strict accordance to the Reinheitsgebot. Some have voiced a concern over the EU ruling in 1997 that Germany can no longer enforce the Reinheitsgebot, but the ruling only forced Germany to allow the sale of non- Reinheitsgebot beers. Breweries are still freely allowed to follow the old rules if they wish and only beers made such can have Reinheitsgebot on the label and the Germans themselves rarely purchase a beer that is not.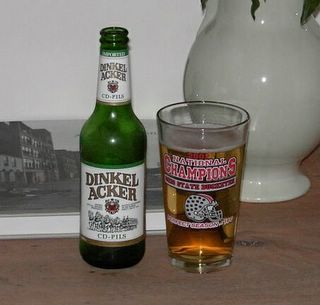 Go Buckeyes!


Opening the bottle and pouring the beer creates a nose completely lacking in any skunk. This is something to consider in that the bottle is green. If only the Dutch had their own Reinheitsgebot. As you drink the Dinkel Acker pils the taste is crisp and lightly hopped. There is in the middle just a hit of apples. Over all it is an appealing and fine example of a pilsner.

Brewery: Dinkel Acker (Spaten)
Year: 1888
Origin: Germany
Style: Pilsner
Content: Not much, as it is a pilsner
Rating: Good
Recommendation: If weather predicts to be hot this is worthy of strong consideration.