BOTD: Tilburg's Dutch Brown Ale
This is one of… No. Scratch that. This is the most disturbing beer I have ever run across. For starters it's Dutch, which most likely means skunk, but it is a brown bottle. Second it's a brown ale, not my favorite. Third, the picture on the bottle is of a blue bird man sitting on a throne, wearing a giant kettle on his bird head, while shoving a naked man half way down his beaky bird mouth and all the while smaller black birds are issuing forth from the naked, half eaten man's ass. WTF?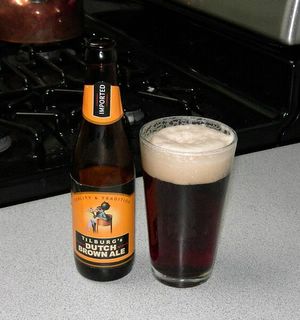 It's a detail from the Garden of Earthly Delights. Freak.


The beer pours foamy. The nose from it is rich in malt – it is a brown ale – but carries with it a hint of spice. That is however as far as the spice goes but the good news is a complete lack of skunk. There is a little tartness on the initial taste but from there on you are drinking a thickly malted ale. The lesson for me is that I'll like a brown ale when birds fly out of my ass.

Brewery: Bavaria
Year: 1719
Origin: Holland
Style: Brown Ale
Content: Unknown, but not weak
Rating: Midling
Recommendation: For all fans of malt it's worth a taste.