BOTD: Kinsale Lager
Oh to the luck o the Irish and lucky they be that they get to ship Kinsale Irish Ale to the US o A. This beer is, according to the Kinsale Brewery website is a lager, which in a way came as news to me – and that was after I drank it.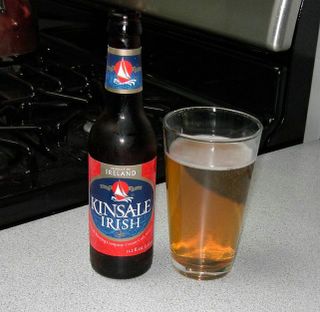 Do you see a beer? I don't.


There is no nose. The fore taste is sort of there and the finish has a slight hint of sweet malt. All in all there's not much. Honestly in my memories I'd have to go back to a Milwaukee's Best Light to think of a beer with as little flavor and character as the Kinsale. It doesn't taste bad, it would have to have taste first.

Brewery: Kinsale
Year: 2001
Origin: Ireland
Style: Lager
Content: unknown
Rating: pointless
Recommendation: I see no reason to buy such a weak beer.