BOTD: Augustiner Edelstoff
Brewed in München (Munich) in the heart of Baveria this beer is true to all that one should expect from those who obey the Reinheitsgebot. The Edelstoff is not a beer that can easily be classified in modern US beer categories, which makes sense considering the brewery has been around since 1328, the late friggin middle ages. They must be doing something right.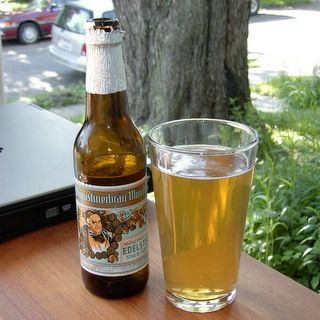 Germans got one thing right.





The beer is a bit of a cross between a Pils and a Weis. As you can see in the picture the beer has a certain cloudiness one would associate with a Weisbier, however there is a level of crispness you don't. The nose is floral with strong hints of citrus. As you first take a drink it comes in kicking with a citrus tartness that finishes into a crisp pop leaving little aftertaste. Which as things are is sad as the taste you have in the middle is worth keeping around. A lighter yet full bodied beer style that is hard to come by in the US.

Brewery: Augustiner
Year: 1328
Origin: Germany (Baveria)
Style: Münchner Bier (part weis, part pils)
Content: n/a
Rating: Superb
Recommendation: Worth getting your hands on some. Excellent with spicy foods or on a hot day.