Fuel rules and excellence in journalism
This morning while trolling through automotive stories at Yahoo I had to do a double take when I came across two articles, covering the same topic, with headlines that were at complete odds with each other. But first, some back ground.

Back in 1973 – that's 32 years ago – the US Federal Government instituted rules that, for the first time, dictated a fuel economy standard. These rules, labeled CAFE (Corporate Average Fuel Economy) established two separate classes of vehicles, cars and trucks, with each class getting a different target. The rules only applied to vehicles under 8,500 lbs. as those over were classified as industrial / commercial trucks. In essence that system seems okay, however it has a hidden flaw that has lead to a generation of loopholes big enough to drive the proverbial SUV through.



A 1972 Buick Electra, the last time US cars were fully free to drink.


The flaw is that the automakers are the ones who decide what is, or is not, a car or truck. A great illustration of this is the Chrysler PT Cruiser. The PT is built on the same platform as the economy Dodge Neon. It has the Neon's suspension, the Neon's transmission and the Neon's engine. It is merely a Neon in retro styled clothing. So what is this Neon derivative classified as by Chrysler? Why it's a truck, of course. Why? By classing it as a truck it helps make up for the all those trucks they sell with Hemi V8's and Viper V10's and consumers have been lapping up as fast as they come off the lines.

While Chrysler, and the other auto manufacturers are keeping to the letter of the rules they have rendered 32 years of CAFÉ increases useless by cooking the books.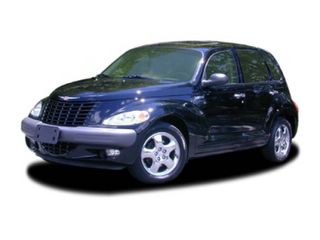 The Crysler PT Cruiser, a small 150hp 4 cyl. truck.


Now Bush is proposing a major change, fundamental reform in fact, in the entire way CAFÉ is run. Gone will be the meaningless and arbitrary car or truck classes and in it's place will be 6 new classes based on weight. With these new classes the car companies will not be able to play the shell game they have for the last three decades. Chrysler won't be able to use the Neon based 3,200 lb PT Cruiser in an effort to help out the 6,200 lb Ram 2500 Crew Cab. This should be hailed as a step in the right direction.

Also the new rules will top out at 5 tons so now, for the first time, the Hummer H2, coming in at 8,600 lbs. will no longer be exempt from CAFÉ requirements. This should be cheered as a proper move.

Included in this major reform is a modest increase in the target numbers for all vehicles. With the 8 mpg H2 going from exempt to a class, consisting of only other super heavy vehicles, that must achieve, by 2011, an average of 21.4 mpg, even the most extreme environmentalist, should I think, at the minimum, give a grudging nod that at least it's a baby step towards utopia.

That is the history, the new rules and my opinion of how they should be viewed. Now on to the dueling headline.



A big RAM that will no longer get help from the little PT.


From the AFP comes the headline; US to raise auto fuel economy standard.

This article is a great example of lazy reporting. The writer puts in a few pro quotes, a few anti quotes, sprinkles in just a dash of numbers and wraps it all up as informative news. But what information does it give? The Bush administration supports their own proposal? That's not news. Leftist watermelons (green on the outside and red on the inside) are against the Bush proposal? Again, not news. As for information on the new rules there's simply not enough to provide any knowledge of what the rule actually are, allowing the reader to make up their own mind.

I had to spend over and hour, reading multiple sources and then finally going to government website to get the skinny on the rules. Laziness in journalism is, in my view, the number one cause that the MSM (Main Stream Media) is faced for why it's "readership" numbers keep going down.

And for the second, competing headline, we go to the Guardian for; Bush drive to save fuel fails to include cars and SUV's.

This article is raw bias. It starts out with a lie, that the Hummer H2 would not be included, and continues from there to pretty much present only one side of the issue and then finishes with a sad story of a store owner dying during a "drive off".

The writer of the Guardian tries to make the connection that high gas prices are to blame for this man's death and since Bush is to blame for the high gas prices – and who's new proposals fail to make any improvement – is therefore responsible. Whatever. People, sadly, have been driving off ever since the invention of the self-serve pump. People drive off after putting a scant $2 in their cars. As for the store owner, Mr. Caddi, well, he shouldn't have grabbed onto a speeding car. The person that drove off and ran him over is reprehensible and guilty of murder but still, trying to stop a car with your body is both stupid and not really germane to the new CAFÉ rules.

What is the point of this "news article"? Inform the readers and allow them to determine their own thoughts? I think not.

But I hope I have succeeded where the journalists have failed. I would like to think that you can, with these links, make up your own mind, which seems to be something the AFP doesn't care about and that the Guardian truly wishes to avoid.